One of our Team Members  wanted to share her special Andy Grammar story with us – and it's pretty cool!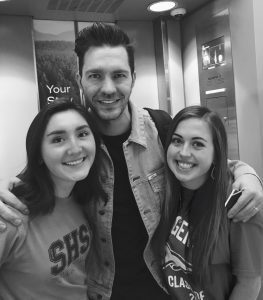 Shelby Kapp, from store #97 in Sparta, NJ, is a member of DECA which is a non-profit organization with over 215,000 members that prepares high school and college students from around the globe to be leaders and entrepreneurs in the fields of marketing, finance, hospitality, and management.
Earlier this year, Shelby attended a program for DECA down in Atlanta where she ran into Andy Grammar in the hotel elevator! He was there to perform for thousands of DECA participants. During his performance, the picture that she had taken of them in the  elevator (right) was placed on the big screen!
When Shelby learned he was going to be performing at this year's Balloon Festival, she HAD TO GO. She and a friend attended his concert and stayed throughout the torrential downpour that Friday night to be in the front row to once again see him.