As a new division of Murphy USA, we should be proud to know that for the ninth time in the past decade, Murphy USA has made Convenience Store News' list of Top 20 Growth Chains. There are four other companies that have made the list nine times and one (Casey's) that has done it ten out of ten!
This year's list, which was published in March, adds a combined 898 stores to the number of convenience stores in the nation. That number represents a 13% growth rate for our industry. Given the state of the nation in 2020 due to COVID-19, it's impressive that so many continued to thrive and grow despite a major shift in focus.
Murphy USA ranks in at #8 on this year's list of growth chains. In 2020, the company increased their store count by 11.1%. In December, Murphy USA's 1,500th location was opened in Mesquite, Texas and, in the fourth quarter alone, they welcomed customers to 15 new retail locations and 20 raze-and-rebuild locations.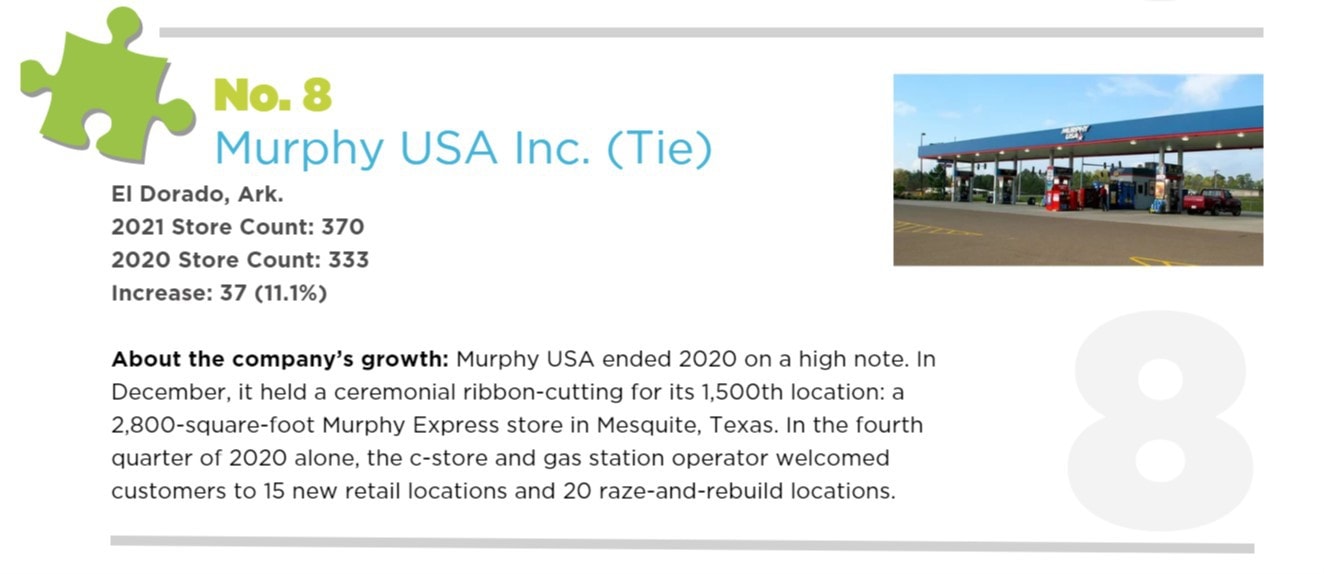 Here is the complete listing of the 2021 Top 20 Growth Chains.
7-Eleven Inc.
Kwik Trip Inc.
GPM Investments LLC
Bolla Oil Corp.
Tri Star Energy LLC
United Pacific
Casey's General Stores Inc.
Murphy USA Inc.
QuickTrip Corp.
Love's Travel Stops & Country Stores
Wawa Inc.
Croton Holding Co.
Two Farms Inc.
United Refining Co. of Pennsylvania
Sunoco LP
Hassan & Sons Inc.
Maverick Inc.
Stewart's Shops Corp.
RaceTrac Petroleum Inc.
Pilot Co.