This year, I've had the privilege of being a member of the 2014 President's Leadership Council (better known as the PLC). In the beginning, I had no idea what to expect as a member of the PLC. I tried my best to keep my mind open to the seemingly random experiences that were on the agenda for the year. After all, trips to Red Bull Headquarters, the United States Military Academy at West Point, and David's Cookie Company seemed just that… random.
To view photos of these events, click HERE.
Early this year we took a trip to Red Bull Headquarters in Manhattan, where their high energy and buoyant attitude are what they depend on to drive their business. They put their team in what they like to call "stretch positions," allowing them to grow into their responsibilities, and become increasingly more comfortable in their role. This is much like how we train our Team Members in our stores every day. We ask them to learn by hands-on practice with the guidance and encouragement from our leaders to help them succeed on their own. It is not always the specific experience of a Team Member that makes them an excellent candidate for a promotion, but rather their attitude and commitment that stand out. I saw a similar value at Red Bull to one I see at QuickChek: Act like an Owner. Always look forward by setting goals and making big plans for the future. I thought this was such an important point to remember as we've seen record growth in the past several years and we move on to Long Island at the end of the year.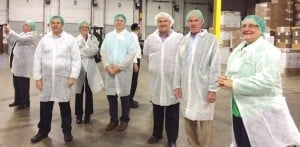 Our second trip was to West Point in NY to experience the leadership style of the United States Military Academy. What originally seemed like a trip that would be nothing but the polar opposite of everything we had experienced at Red Bull only a month before, turned out to be the perfect message for the perfect time. At West Point we learned about crucible moments, the times when we are tested in some way. These crucible moments allow us to prove our true ability as leaders. Leaders develop and grow not necessarily when you reach all of your goals with little difficultly, but when you're faced with unexpected challenges. This is something every one of us at QuickChek can relate to whether it be closings due to damage caused by Superstorm Sandy, slow sales caused by this winter's blistering cold, or torrential downpours the 2014 QCU class experienced at Play to Win. Our situation isn't always ideal, but it's how we perform under these demanding circumstances that prove our strength and ability as strong leaders.
At David's Cookies in late spring, we experienced what I like to call "the sweet side of leadership." In addition to a plant tour, lunch and a President's Quarterly Report, we enjoyed working together in groups to build our very own cookie recipes from scratch dough and an array of yummy toppings. The trip fell right after our Memorial Day Weekend Sub Spectacular, so it was a nice treat for those who worked so hard to enjoy a day out. It wasn't all about eating cookies though. We first had to learn the art of cookie construction which included how to perfectly balance dough with mix-in's to prevent your cookie from turning into a candy bar. It seems that whether you're working hard with your team to build cookies or subs and sales, a positive outcome is much more enjoyable after you've put a lot of work into it. My involvement in the PLC this year has been a completely new experience for me as well as many of the other first time members. What we thought to be amusing day excursions turned out to be true lessons in leadership development. Every experience I've had with the PLC has me looking forward to what's coming next! Not only in regards to our PLC outings, but with QuickChek as well!
Kim Scully
2014 President's Leadership Council Co-chair