J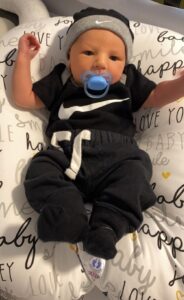 on Santiago, Store Operations Training Specialist on the Human Resources Team, and Samantha Santiago, Food Service Leader in Store #161, welcomed a baby boy on July 24! Odin Santiago made his entrance into the world weighing 9 pounds and measuring 21 inches long.
Amy DaSilva, Leader of Corporate Communications & Recognition on the Human Resources Team, and Brian DaSilva, Store Leader of Store #48, also welcomed a new addition to her family! Brison Everett DaSilva was born on July 30, weighing in at 6 pounds 6 ounces, and measuring 19.5 inches long.
Congratulations to Jon, Samantha, Amy and Brian!