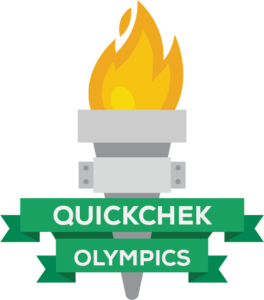 While the 2022 Winter Olympians were hitting the slopes, lacing up their skates, and twirling through the air in Beijing, QuickChek Olympians were participating in their own set of events at the Support Center in Whitehouse Station.
We ushered in the first ever QC Olympics with our opening ceremonies where each department "country" participated in the presentation of their unique, homemade flags. When the games began, Team Members went head to head, competing in events like "Bank Box Basketball", "Rubber Band Archery", "Fountain Cup Bowling", "Pencil Javelin", "Olympic Bean Bag Ring Toss", and "Carpet Curling".
Ultimately, former Leader of Corporate Payroll, John Mapa, came out on top with the most game points, earning him the coveted over-all gold medal, with Retail Systems Programmer, Dennis Nguyen, scoring silver, and Assistant Network Administrator, Gary Sweeney, rounding out our top three with bronze.
The festivities concluded with a spread of global treats prepared by our very own Chef Ted Kwiecien, followed by our closing ceremonies hosted by VP of Marketing & Operations, Don Leech, who was dubbed the official QC Olympics Commissioner.
Congratulations to our QC Olympians and thank you to all those who made this event a success!