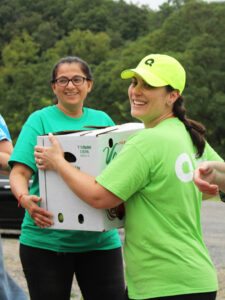 Here at QuickChek we believe in the importance of giving back to our community. That's why we partner with local organizations, like America's Grow-a-Row, who make it their mission to provide fresh, healthy produce to those in need.
Our Team Members recently visited Pittstown Farm where they assisted with the organization's first annual mass distribution. From packaging freshly picked fruits and vegetables, to loading boxes of produce into vehicles, these QuickChek volunteers helped supply 12,780 pounds of produce to 426 households.
Thank you to those who volunteered and WAY TO GO!