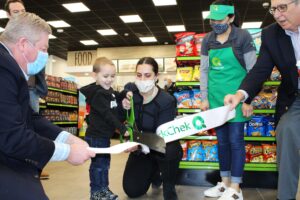 Congratulations to the team at Store #186, which opened its doors on Tuesday, February 1 in Readington Township, NJ.
Our Team Members were joined by local QuickChek super fan, four-year-old Jionni, who helped celebrate our opening by cutting his own ceremonial ribbon. Jionni's mom shared with QuickChek that the pair witnessed Store #186's construction from start to finish on their daily drives, and he became obsessed with the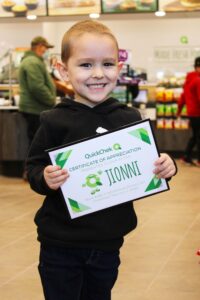 anticipation of opening day.
Store Leader, Vivien, presented Jionni with his own "#1 Fan" certificate and a swag bag to commemorate his ribbon cutting ceremony.  Vivien cut the official ribbon alongside Readington Township Mayor Juergen Huelsebusch,  Deputy Mayor Jonathan Heller, Committee Member Betty Ann Fort, Committee Member John Albanese, QuickChek Senior Vice President Blake Segal, QuickChek Vice President of Marketing  & Operations Don Leech, and QuickChek Director of Fuels Tim Holiday.
Be sure to come CHEKout the Readington team and fuel up at our newest location!