July is here and you know what that means! Less than a month until the QuickChek NJ Festival of Ballooning is here!! This year will be the 36th year that we have hosted this great event. Not only is this a huge event for the people in our communities but it's a great opportunity for you and your families and friends. Take this opportunity to come to the festival and, if you're not working, support your fellow Team Members and have some fun! Don't forget to remind our customers about this great annual event and that they can purchase their tickets in the store!
This year's details:
Dates: July 27 – 29
Location: Solberg Airport in Readington, NJ
QuickChek also has a new balloon this year. Chek out Saxon, the saxophone, below.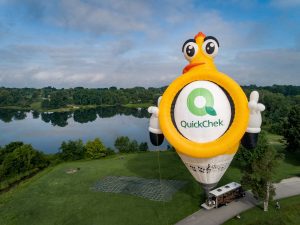 For all the details about this year's festival, including daily schedules and information regarding entertainment and music, visit www.balloonfestival.com.