Late in 2018, our New York Team Members completed the Best Companies to Work For in NY survey process and helped name us, once again, one of the Best Companies to Work For in New York State. Our New Jersey Team Members went through a similar survey process and thanks to their responses we made the listing of Best Places to Work in NJ! This process, administered by the Best Companies Group, consists of a group of randomly-selected Team Members to complete a survey and provide their feedback on how we are doing and if we are a great place to work compared to other companies in the garden state.
Below is a word cluster showing what our New Jersey Team Members feel we are good at doing in terms of making it a great place to work for all. Thank you, New Jersey Team Members, for your feedback!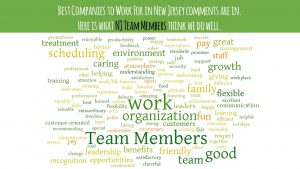 We do not yet know our ranking but we will find out where we fall in the list of large companies in the state of New Jersey at an event on May 1st in Freehold, NJ.