On Wednesday, the Food Service Team from the Sales & Marketing Department made a trip down to store #155 in Toms River for a very special reason. Thanks to the assistance of Store Leader Sara, the team was able to learn about a "great mistake" that one of her Team Members made. Here's the story.
Team Member Corinne Kist was going about her daily responsibilities in the Food Service Area and was busy making a Homestyle Burrito for a customer – or so she thought. Another Team Member nicely pointed out to her that the item she was making was similar but was definitely NOT a Homestyle Burrito. Corinne had made an accidental ingredient swap and replaced the spuds with pork roll.
Little did Corinne know that her accidental creation would lead to a BRAND NEW ITEM! Corrinne's mismatched burrito is now what we like to call the BOSS Burrito and you will be seeing it in your stores soon!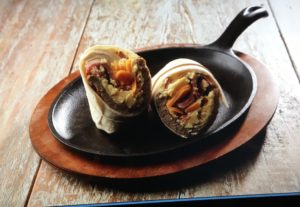 To reward Corinne for her "great mistake" the Sales & Marketing Team brought lunch to the store and gave Corinne a swag bag with some fun things including a $100 QC Gift Card.
Thank you, Corinne, for sharing your "great mistake" with us and allowing us to turn your creation into a new item on our menu!