We are proud to say that our President & CEO, Dean Durling, has been recognized by Convenience Store News as one of the 50 Most Influential People in Convenience Store History.  Dean makes the list among other industry leaders like Chester & Chet Cadieux from QuickTrip and Bob, Steve, and Stan Sheetz from Sheetz.
The convenience store industry has changed a great deal over the past few decades. An industry that was once comprised of small corner stores where neighbors could go for their pack of cigarettes and a quick bite to eat has transformed into a massive collection of sophisticated stores that are appealing to the eye, easy to navigate, and showcase the latest and greatest technology when it comes to food and convenience.
This transformation didn't happen over night and it wasn't one individual or one store – it took a lot of people and teams to take the industry to the next levels. So, to honor of their 50th anniversary, Convenience Store News decided it was only fitting to create this list highlighting these fifty individuals.
To generate their list, they relied on the others in the industry to supply nominations. After tons of nominees rolled in, CSN began to narrow the list down to those most worthy of the title being bestowed upon them. Their main criteria where individuals who have had the greatest influence on the development, growth, and history of our industry.  Here's what they had to say about Dean: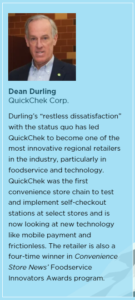 The 50 individuals included on the list include retailers (entrepreneurs, founders, pioneers, innovators, etc.), suppliers, and distributors (new product developers, technology innovators, partnership advocates, etc.) who have made significant contributions to convenience retailing in one form or another.  To see the full list, click HERE.
Congratulations, Dean, on this awesome recognition!